The Big Yellow Albatross
Taking a break from eating my bon-bons and watching soap operas on tv.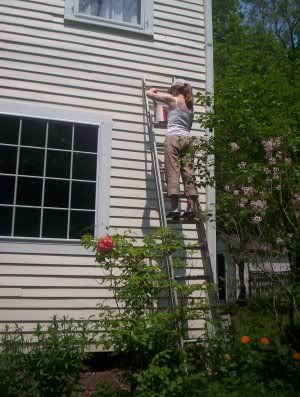 This past weekend Rob put up new clapboards on this small portion of the house and put the trim around the new picture window. A picture window he installed in the fall and we never got around to finishing before the endless winter came.
Look, there is Rob cutting a hole in the side of the house for the window, while standing on the rickety ladder and using a power saw. Notice I am standing a far distance away, out of danger in case he falls. I'm a nice wife like that.
Remember the screened in porch we paid a contractor
boatloads of money
to
build for us
, and was in
danger in collapsing
, well Rob fixed it.
I then painted the porch exterior and stained the steps. It looks great now and we are happy with it. This week a landscape contractor is coming to tear up our front yard, move the plants and trees, and put down grass seed, to replace the green weeds we cut short to give the illusion of grass now.
My new motto: Painting, It's Almost Like Having A Hobby, Except For The Enjoying It Part