Bulls-eye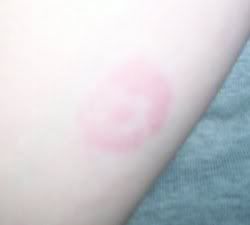 Damn ticks.
Like I have nothing else better to do than go to yet another doctor.
The best part of the experience so far, because I'm sure it will get better, was calling the doctor's office and having the secretary tell me that the doctor won't want to see me. They tell patients to call back and come in
when they get sick with flu-like or arthritis symptoms
. Are you freaking kidding me?!?
I was speechless for a moment before I told her that, according to the International Lyme and Associated Diseases Society, the protocol for erythema migrans (fancy name for bulls-eye rash) with no constitutional symptoms was a 6 week course of antibiotics. If this type of rash is present treatment must begin immediately as that is when treatment is the most effective. There is no definitive blood test for Lyme disease.
She wanted to know where I had read that. I hated saying that I read it on the internet, since that makes it seem as though I read it on some insipid mommy and me message board, and not a medical journal.
So now I get to drag seven kids to the doctor's office with me, should be boatloads of fun. It's times like this I wish I had gone to medical school instead of pursuing a master's in English (yeah that was worthwhile) and law school.
Throw a dart at me, I'm done.