Prototype of My New Invention
Do you have a baby who enjoys sucking on their pacifier?
Does your baby spit the pacifier out by mistake and then cry until you replace it in his mouth?
Are you tired of repeatedly sticking the pacifier in his mouth and then having to do it all over again a few minutes later?
Do you wish there was a way to secure the pacifier in his mouth?
Well now there is.
I present the pacifier with ear clips: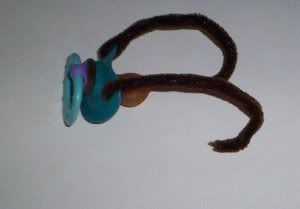 No more uncomfortable than wearing a small pair of glasses.
Sure to provide hours and hours of contented sucking for your little one as well as peace and quiet for you.
Order yours today.
Updated to add: Before someone decides to call CPS on me, this is only a joke. I would not really have my 4 week old wear this, as much as I would love to ;-)