Do You Know What Today Is????
According to Sheryl,
today is De-Lurking Day! A special day celebrating lurkers, and exhorting you to muster the strength and bravery to click on that comment button and end the deafening silence.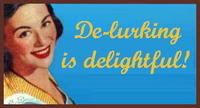 Today you must delurk and comment on every blog that you visit, or as
Mir
said, bad luck will befall you and your children, and your children's children. You don't want to be responsible for that now do you?
Seriously, I do wonder who all of you are. I get a handful of comments each day, mostly from people I "know", but who are the other 150 people? Who are you???
Just leave a comment and say anything... as long as it's nice ;-)
And leave a link to your blog, if you have one, so I can visit you too and lurk at your blog.
Then go forth and comment everywhere... spread the love.