One Month Old Today
Miles,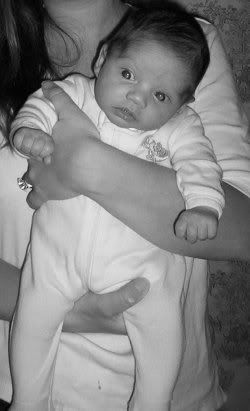 Today you are one month old. One short month, yet it feels like I have known you forever. It is as if your place in our family was preordained. You were missing, yet we didn't even know it until you arrived.
I love the way to turn your face toward my voice when I talk to you. I love the way you raise your non-existent eyebrows and cause wrinkles across your forehead like a little old man. I love the way you purse your lips and look like you are whistling.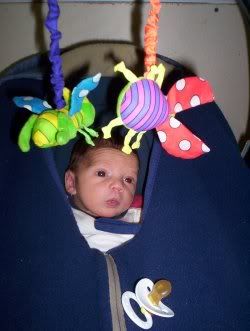 I love your tiny hands and the way you flail them around. I love your skinny little legs and how you hold them up in the air. And I am always amused by the body proportions of babies.
Mostly you look like this though.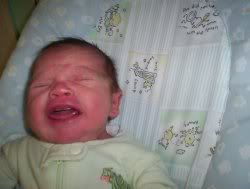 and this: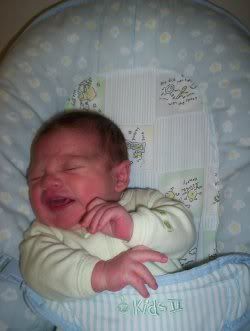 I have nicknamed you Smiles, mainly because I am sarcastic, but it does sound better than Moaning Miles or Cry-els, which are the other nicknames that spring immediately to mind. I am hoping that this nickname will become a self-fulfilling prophecy. Much in the same way that I repeat over and over again "You are a happy baby" as you scream for hours and I walk you around the room. I am hoping one day you will think, "Hey, I am a happy baby. I really should stop crying." And then you will. I hope. Please God.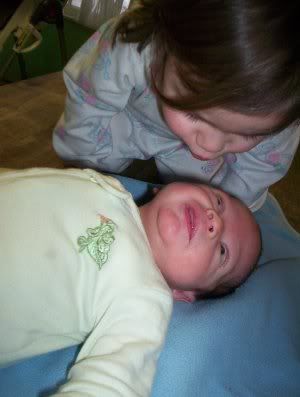 Your siblings all love you and still fight over the chance to hold you. They shower you with love and kisses, sometimes a bit too much. Not sure why you look so frightened of your sister kissing you.
You love to sit in your vibrating bouncy chair during the day. It has proven to be worth it's weight in the number of batteries it burns through on a daily basis. I have found myself stealing AA batteries out of your siblings toys in desperation. But their toys are annoying, and your seat is so so wonderful.
You will tolerate being carried around in the sling if I keep in constant motion. Which would be fine if I didn't feel like standing still, sitting down, or
using the toilet occasionally.

Your reflux is doing much better now that you are taking medication and I have cut almost everything out of my diet. Soon I will be grazing out in the yard. Okay, not really, but it does seem that way some days. And the frightening spells of apnea that were caused by your reflux have all but disappeared (knocking on wood). Your incessant crying and overall irritableness have improved as I eliminated foods from diet as well. I have been through this with several of your siblings, so it isn't much of a surprise.

You sleep in bed with us at night. You like to be right on top of my body or else nestled into the crook of my arm nursing. And, despite the fact that I wake up with a stiff neck and sore shoulders every morning, I love it. I love having your tiny head right near my face and breathing in your brand new baby scent. I love how you contentedly sigh as you nurse.

Since you will be our last baby, I find myself viewing all the "firsts" with a bit of melancholy. I know how fast babies grow up and I wish I could slow down the process. You have outgrown the newborn sized diapers and when I put the outfit on you yesterday that you came home from the hospital in, it was too small. In this past month you have lost your umbilical cord and had your first bath. You celebrated your first Christmas and your first New Years. Your fuzzy dark hair is slowly falling out and your hairline is beginning to resemble your fathers, though I am sure that unlike his, yours will grow back.

As much as I try to fight it, soon these early days will just be a hazy memory. And I will look at you, like I do your siblings, and wonder why a lifetime passes so quickly.