Scenes From An Easter Morning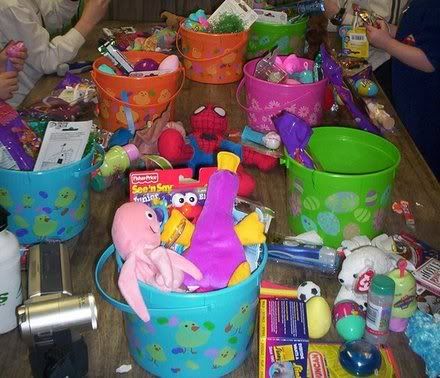 Rob and I woke up to Easter baskets that had already been ransacked. FWIW, the Easter bunny is much more generous than when I was a child.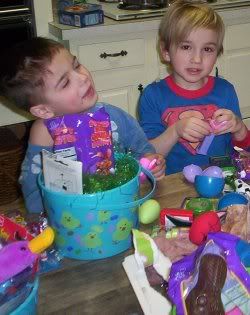 Young children still in their pajamas and already heading into sugar comas.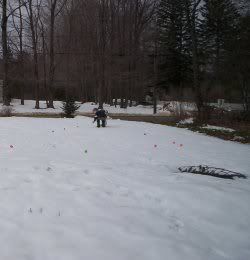 The Easter egg hunt in the snow. I met a neighbor in Walmart on Saturday when we were both trying to find last minute fillers for our children's baskets. We commiserated at our plight of having set the bar too high for the children's expectations of what an Easter basket should contain. My children were making lists and I was forced to remind them that the Easter bunny does NOT have a sleigh being pulled by many strong reindeer or a posse of little working elves, only a little basket he has to carry himself.
She bought her children new sleds. Because as you know, nothing says Easter like the traditional new Easter sled.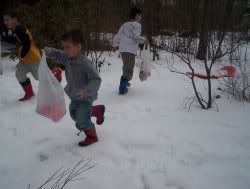 Look at the children scurry around on their sugar high. I suggested we bury the eggs under the snow in the driveway and give the children shovels. If they want the eggs, they must shovel the driveway to find them.
I did learn that throwing plastic eggs across the icy, snowy yard would cause the eggs to pop open and cause the candies to fly out.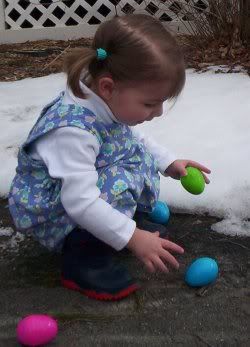 And my little daughter wearing her Easter turtleneck and snow boots. It didn't take her long to learn how to open the little eggs to get out the colorful bite sized pieces of crack, otherwise known as jellybeans.
But really, nothing says Easter, like a solid chocolate bunny that is as big as your head.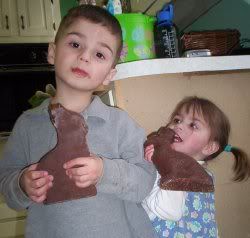 If there is anything to miss about childhood it is the ability to eat candy with sheer abandon. I can't remember when the last time was that I walked around the house, hugging a chunk of chocolate the size of my torso, and gnawing on the top of it with my teeth.
And finally, the tradition in our house. New toothbrushes and a tube of toothpaste for each child.

I hope everyone had a great Easter, filled with family, laughter, and of course lots of candy.