I Don't Need To Move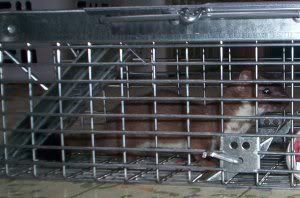 Rob went out and bought this trap after the bowl/cage fiasco. The fiasco that involved him tearing out newly taped sheetrock when the weseal ran behind it. It wasn't pretty.
So we bought and caught it in a havahart trap. Then fearless Rob put it into his car and drove it far far away.
"How it got into your house?"
"Why, it crawled up a hole from the basement to the old laundryroom," she answers like that is a normal occurence in all American homes
Doesn't everyone have holes in their floors?
That area of the house is sealed off from our living area of the house by a door in the kitchen. However, we still need to walk through it to get to our new laundry room. It is still pitifully under construction. But this weasel in the house incident has definitely moved putting up walls and sealing off holes in the floor to the front of the home improvement list.
I told Rob this weekend that I feel like I live in a crack house, just without the crack. Yup, a crack house with a really big mortgage and no illegal drugs.