Dirty Little Secret
Rob and I have a dirty little secret. Two, or three, or sometimes even more times a week we do this.
Rob will call me on his way home from work to make sure the children will be in bed on time. He will frequently stop at the liquor store in preparation for the night's events.
We discuss it on the phone during the day, way more than seemingly educated people should.
I will stand up now and be held accountable.
My name is Chris and I watch American Idol.
I know I am not alone. There should be 29,999,999 others of you out there.
I'd like to say that I am watching the show as some sort of anthropological study on the decline of American society. But that would be lying.
And I'm frankly too busy right now. I have to get the kids to bed, clean up the kitchen, pop open my drink, and join the rest of America on the couch by 8:00pm, having my last remining brain cells sucked out by the blue flickering light. It's tough fitting my life around my new tv watching habit.
I have now lost the last shred of my smug superiority. Oh how the mighty have fallen. In one short year I have gone from a no television watching zealot, to watching pseudo-reality televsion designed to exploit vulnerable people to the fullest.
Now that I have gotten that off of my chest, I feel better.
***************************************************
This has bothered me since the beginning, yet I have never heard anyone else mention it, except for my daughter who screams "Dolly Dolly" whenever she see her perform.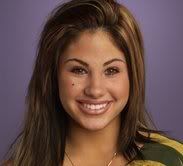 If you add a red clown nose, a blue hat, and some pony tails...

Holy crap, it's Loonette. She is a contestant on American Idol.
Everytime I see her I fully expect her to shout out, 'Time for the 10 second tidy!'