The Boy Who Cried Bear
My 4 yr old is going through a stage where he likes to tell stories, fantastic, unbelievable stories. Which is a nice way of saying he lies, constantly. He doesn't lie to get out of trouble, or to get anyone else into trouble, it is mostly wishful thinking and an over active imagination.
And mostly I just ignore it.
So when he came running in the house from playing outside screaming that there was a bear in the driveway right next to him, I did what any good mother would do. I looked up from my laptop, smiled at him, and said, 'That's nice, dear.' We live in a town,with lots of neighbors, not in bear country.
And when he screamed, 'I'm going back outside to play with the bear. I love bears.' Well, again I did what any good mother would do and said, 'Have fun, dear.'
And as he slammed the front door shut on his way back out, my eldest son yelled, 'There really is a bear. A big black bear. It's right outside the window eating all the bird food.'
And then time stood still for a minute. Do I save my son from the bear who might swallow him or do I grab my camera? This parenting thing is full of such tough choices.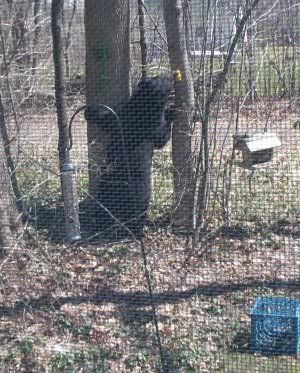 Not to worry, I did both. Which is why I got such a crappy picture of the bear.