Dilation, Effacement, Inductions... Oh My
Today I had my ob appointment and first internal with the Group B Strep test... oh fun!
The baby is at -2 and I am 2cm and 50% effaced. This scares me slightly. In all my other pregnancies I have never even been 1cm before going into labor, either naturally or induction, and not one of them took longer than 30 minutes from 3cm to baby in my arms. We live 1.5 hours from the hospital and Rob's office is one hour away from our house.
I may just end up giving birth like my friend
Karen
under a tree, though mine would have to be of the indoor variety this time of year, and luckily I do have the Christmas tree ;-) Or at least I will have the Christmas tree this weekend. Karen did offer to come build me a nice cozy igloo to birth in, but there just isn't quite enough snow yet for that. Aw shucks ;-)
And the new hospital policy is no elective inductions before 39+ weeks, I suppose in this climate of malpractice insurance mayhem it is to be expected. I know lots (most?) people don't like to be induced, but I have found my induced labors to be much easier and more manageable. But given that I haven't ever made it that far in a pregnancy, it seems as though an induction isn't going to happen this time. As I was typing this the nurse just called to ask me if I was interested in scheduling an induction for December 28th. I laughed and told her I have never even made it to my due date before and I certainly had no plans of going overdue this time.
Oh well, I am going to try not to worry about things over which I have no control.
I'm not ready to have this baby yet, still have a few small projects to finish around the house, curtains to sew, and a Christmas tree to chop down and decorate. Oh and a nasty cold to get over.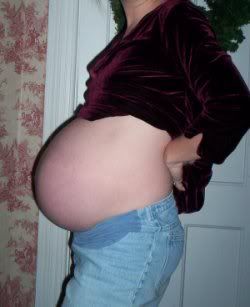 Here is a photo taken today by my 7 yr old. This past weekend when I was out shopping I had a couple of children staring at my stomach in disbelief. Proportionally to my body my belly is huge and sticks straight out, from the back you can't even tell I am pregnant. Sounds like another boy, huh?