Like Lambs Before The Slaughter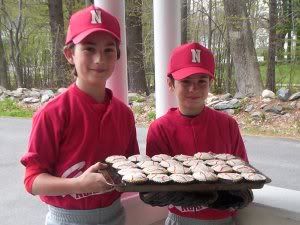 I had thought by baking cute cupcakes and having Rob as the coach of the baseball team, that I would not have to attend the games. Not that I don't enjoy watching their team get three outs with the first three boys that come up to bat; boys that duck and step outside the box as soon as the pitcher lets go of the ball. And I do so enjoy watching the opposing team score 13 runs in one inning.
But Rob said that if I want to continue bitching about the overall parental apathy that I had to attend the games. And since I am not about to give that up, I went.
I am not sure that there is a word to accurately describe the skill level of the team. But I will try. My two sons are in third and fourth grade and the team is comprised of sixth and seventh graders, and my sons are among the few good players.
There was more than one player that I saw swing at a ball by twirling around at the plate. I had to restrain myself from screaming something like, "Are you twirling your tu-tu girlie boy?"* Because that would have been mean and I was supposed to be rooting for this team, after all.
There was also more than one player who ducked when the ball was pitched at him, one of whom was squatting in almost a fetal position trying to swing.
And then there were the kids who cower behind their baseball gloves in the outfield and run away from the ball.
I suggested to Rob that at the next practice he line the kids up and whip balls at them so that they can see it won't kill them to get hit with a ball.** But apparently there are
rules
about that sort of thing. Clearly this is why I could never be a coach.
But the cupcakes were yummy and the other team was totally jealous. They may have beaten us 18-0, but we had snacks. And we weren't tired and sweaty. And our uniforms were still in pristine condition. And we got to recite the loser mantra.*** What did they get for their troubles???
And just watch out next time. We're totally going to eat our snacks in front of them again and not share one bit. We'll see how they like that.
*Not that there would be anything wrong with this tu-tu twirling at a ballet class.
**Obviously I am joking so please keep your hate mail to yourself. I would never line the kids up and throw balls at them. They would totally be expecting it that way. Much better to have the surprise factor.
*** The loser mantra for those who don't know is, "Hey, at least we had fun."