It's True, There Is One Born Every Minute
And they will buy anything on ebay.
Spoons
People, people... do you really need it spelled out for you?
a)Go to your nearest grocery, convenience, wal-marty type store.
b)Buy a box of specially marked Kellogg brand cereal.
c)It will cost you a lot less money
and
you get the cereal to eat with your new spoon.
d)Even if you don't want to eat the cereal, you can buy the box,
take out the spoon
and
THROW AWAY THE CEREAL
. You will still have saved money from this auction.
Sometimes I am just frightened by the general public and their brain power.
But after thinking about this for awhile I am have listing I am going to put on ebay: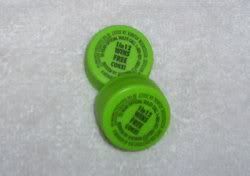 Yes, those are the caps from my Diet Coke bottles good for a free bottle of Coke.
Minimum bid is $5 plus $3 shipping and handling. If you win both auctions, I'll only charge $2 shipping for the second one. It's quite a bargain, really.
Hurry. Act now before they are all gone.
Or something heavy falls on your head and you come to your senses.