I Have Reached The Summit
I feel the hot sun shining on upon my face. It is good.
I survey basket after basket of clean and folded laundry. I tear off my supplemental oxygen mask and relish in the glory that is mine.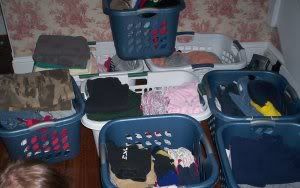 But the happiness is short lived. I cannot linger long at the top of Mt Never-rest.
There is already another full basket of clothes from today, plus baseball uniforms, pulling me back down.
Oh the colorful tees
and the many blue jeans,
with the pockets full of rocks.
Twenty mismatched socks,
where the washer never stops,
on top of Never-rest mountain.