Five Months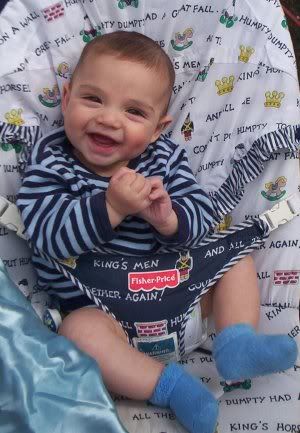 I know that it is such a cliche, but I can't believe how quickly time is passing and how fast you are growing. At the same time, it feels as though you have been a part of me forever. I cannot conceive of a time when you were not in existence. When I think back on the past, before you were born, I feel your presence lurking behind the scenes. I am not sure how to reconcile these two seemingly conflicting feelings of you having just been born, yet having been here forever.
You love looking at the world around you. You have perfected rolling over and will roll around the room trying to get where you want to go. I spend a good deal of time getting you unstuck from various places, as well as untangled from your own arms. Sometimes you roll over with such force that you bang your head on the ground and cry. And I'll pick you up and kiss your little head, which will make you laugh and cry at the same time.
You sleep at night as well as I could ever hope for a 5 month old to sleep. You sleep in bed with me, with your arms extended to the sides, making sure you get the third of the bed that is rightfully yours. Your beautiful little face is the last thing I see at night before I fall asleep, and the first thing I see when I awaken, through no choice of my own, several times during the night. You consistently sleep at night from 9:00 pm to 6:00am, waking up to nurse, but falling right back to sleep. The only drawback to this is that you are now awake for longer periods during the day. Periods during which you demand constant amusement.
You have an attention span of about 3 minutes before you are bored. You are excited and happy about your toys and siblings, until suddenly you are not.
If you could talk, I imagine this is what you would be saying.
"Get that toy! Shake it above my head."
"Oh, I love that toy. I am going to scream at it and laugh at it a few times."
"Give it to me. I want to hold it now."
"Oh, I love this toy. I love this toy. I wonder how it tastes?"
"Yum. Yum. Oh no I dropped the toy. It's lost... forever."
"I MISS MY TOY. I WANT MY TOY. GIMME MY TOY. WHERE IS IT? OH WOE IS ME"
"Oh there it is. Mommy found it. Shake it over my head some more."
"Okay. Done with that. Walk me around the room now."
You demand constant attention, want us to play with you, and carry you around, yet you hate the sling. I think you find it too constricting, as you can't kick and flail and grab anything more than fists full of my hair. I have nicknamed you my little pita pocket. Which really is short for my little pain in the ass pocket sized version, somehow that one was to cumbersome to say. Other people might not find the nickname as endearing as I do, but I mean it with love.
I'd walk across hot coals to see that toothless baby grin and hear that belly laugh. And there are days that would be a welcome change of pace from the toy shaking, room pacing, noisy toy playing rut.
Right now you are laying under your musical baby gym grabbing the toys and perfecting your stomach crunches. Summer is almost here and soon you will be showing off your six-pack in your tiny swimming trunks. I do wish they made baby toys that played better, less annoying music, because after a few minutes of listening to this toy I am ready to scream and can hardly blame you when you do. It is especially fun when the other kids turn on noisy toys for you and we have dueling annoying musical arrangements.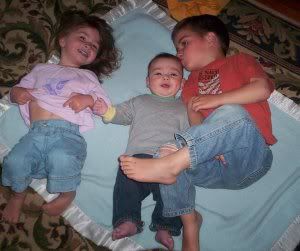 There are always people around who want to play with you. And you seem to know that the smallest sigh of discontent will bring people running.
And you have a 2 yr old sister who provides more entertainment than the rest of us could ever hope to. What could be better than playing with Mr Potato Head?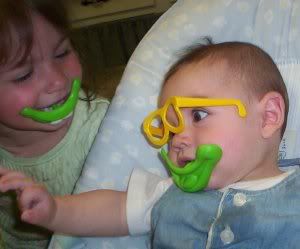 Why a real live potato head baby, of course.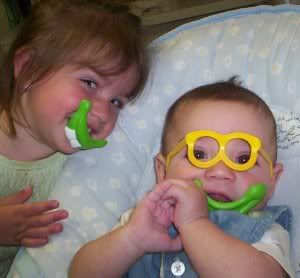 Luckily I rescued you before she decided to put on the ears and nose.
I love you, my little pita pocket.