Two Years Ago
Two years ago today the entire floor of nurses and doctors placed bets on your sex. Most of them lost.
Two years ago today I sat stunned as they were unable to find your heartbeat with the doppler and put an internal monitor on your head. A place that still bears the scar of this pre-birth trauma.
Two years ago today your father was knocked down in the hospital hallway by the anesthesiologist who was running to my room when I couldn't breathe and your heartrate was plummeting with each contraction.
Two years ago today, in an event I wish I could block from my memory, a doctor reached his hand up inside of me to manually turn you when you were stuck.
Two years ago today I heard the words "it's a girl" and discovered that the tiny hats came in pink
Two years ago today was the last time I talked to my beloved sister in law when I told her about your birth and she cried. I told her you'd be waiting to meet her after she recovered from her bone marrow transplant, but that never happened.
Two years ago today I kept checking your diaper in disbelief.
Two years ago today we named you a "boy" name because we didn't have a "girl" name picked out. And it suits you perfectly.
Two years ago today I made up a silly little song that I still sing to you today, and will continue to sing to you even when you are a mortified teenager.
She's a pretty little girl
The prettiest in the world
My teeny tiny little girl
She's my tiny little treasure
Worth more than I can measure
Oh how I love my baby girl.*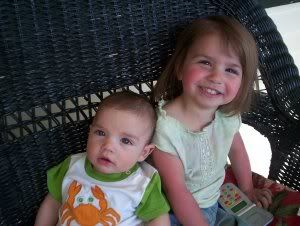 Happy Birthday! I love you.
(* After singing the song for a few months, my feminist side began to feel guilty that I was only singing about how pretty and small she was. So, I have since added other verses that talk about how smart, clever, and strong she is. But these were the original words, for better or worse.)