Ten Years Ago Today
I became a mother. Although I knew it would be a life changing moment, I was not prepared for the fierce love I felt for this little person whom I had just met. Within moments of his birth I would have traded my life for his.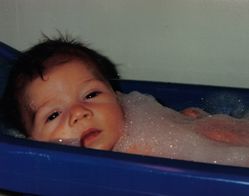 We brought him home from the hospital, carried him into the house, and looked at him sitting there in his carseat. Whoa, they let us bring him home. There wasn't any "real" parents coming to take over. We were them. We were the ones who were supposed to know everything.
He is the one who shaped me into a mother from a self centered college student. He is the one who continues to shape me and mold me. I make all the mistakes on him, my first born, my practice child. The subsequent children have it so much easier.
He is the one who taught me that a lack of sleep will not kill you, it will only feel like death.
And if you look closely at the photo above, he also taught me that a white couch is NOT child friendly no matter what the salesperson tells you about it's cleanability and durability.
And so my beautiful son, today you reach the coveted double digits. I am so happy you are mine.
And no, you will not be getting the $80 "colorful" snowpants and $350 skis for your birthday. Let it go already.