Either I am Nesting
or I have developed bipolar disorder and am in an extreme manic phase. I. can't. stop. cleaning.
This morning I was looking around our master bathroom, which has become *everyone's* bathroom while we are in the midst of the bathroom renovations, and realized that it had not been properly cleaned in a long long time. Eeeeewwwww.
I took the shower doors off their tracks and set them aside so I could get into the walk-in shower better. This also allowed more light into the shower area, which I guess is a good thing, but I was horrified at all the soap scum lurking and the mildew on the bottom of the shower door and track. And so armed with my chemicals I set about scrubbing the bathroom.
As I was cleaning I was looking around the room and just could not help myself. I tore up the wall-to-wall carpeting that was in there. Who puts carpet in a bathroom? It is dark greenish. The walls are tiled with light green, pink, white, and yellow tile. The upper part of the wall is painted a matching Pepto-Bismol pink. The room looks like an Easter basket threw up in it.
But the topper has to be the cobalt blue sink. Not only is it ugly and doesn't match, but it shows up every drop of toothpaste and soap if it isn't scrubbed out after every use. And you can guess that does not happen often enough. I did ask the children if they spew the toothpaste out of their mouths all over the sink and wall on purpose because I cannot imagine how it gets everywhere like it does without trying.
Rob called while I was about an hour into my cleaning project and talked me out of tearing anything else out of the room. In my defense I think it was the cleaning fumes.
So tomorrow while the big kids are at their art class I am going to Home Depot to buy paint, flooring, sink, faucet, and a new medicine cabinet. It is a small room, too small really for a master bathroom, so my goal is to finish it this project this week. I took some "before" pictures and will post them with the "afters" when I am done.
Later on in the afternoon, when I had recovered from my 2 hour bathroom cleaning frenzy, I finished painting all the white trim in my new laundry room and bathroom. I was so happy to tear that blue painters tape off the walls, even if it did take some of the wall paint off the wall. I guess the tape is only supposed to be temporary, not remain on the wall for months on end.
But like everything here at the big yellow house, it is two steps forward and one step back. Or is it one step forward and two steps back... because more often than not it feels like the latter.
I walked into my kitchen to discover this: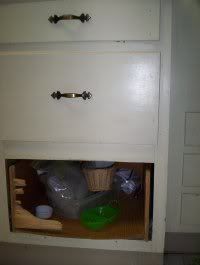 What?!? It was just there a few minutes ago. And not only that, the drawer front was nowhere in the near vicinity. Granted the cabinets are not great quality and we are planning on replacing them, but I still prefer fronts on them until that time. And I was really taken aback that someone would not only break it off, but run off with it and not tell me.
I yelled from the kitchen that I wanted the door front back. And in walked my 1 yr old carrying it like a shield.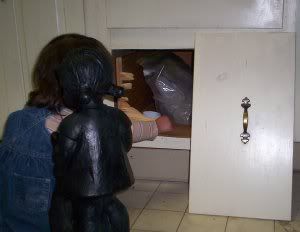 Of course then "Baby" had to come and have a look at it also.