A Trip To An Art Museum
The three monkeys: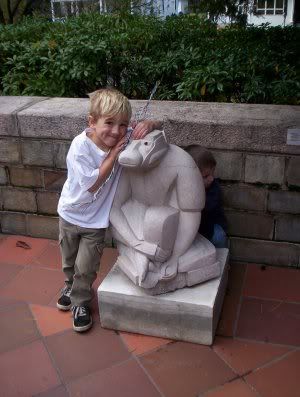 I have brought my children to many museums over the years, but never to a museum dedicated to just artwork. Yesterday we kicked off our homeschool art class with a field trip to a museum of American art. The woman who will be teaching the art class works at the museum so she arranged a tour and art project. The children all loved it and she was able to discuss the artwork with them in a way which brought the dialogue down to their level, but still treated them as though they had brains and real thoughts.
They toured the museum for about an hour and a half, I wandered off after about 15 minutes with my younger children who couldn't grasp the concept that it was not a hands-on museum. We walked through the rest of the museum in record time, since 3 and 1 yr olds don't want to linger anywhere. Luckily there was a children's art corner set up with books and craft supplies so we were able to kill most of the time in there.
We took a lunch break and picnicked at a park across the street. The children all ran off their excess energy. Actually I should say *boys* ran off their excess energy as there were 9 boys signed up for the class and NO girls. There was a completely different feel to the class than the pottery class my 9 yr old takes where he is the only boy with 8 girls.
After the lunch break we went back inside the museum and the children made their own art projects in the style of a local artist who uses found objects and items from nature for his pieces. They were all quite pleased with their projects which involved working with various types of wire.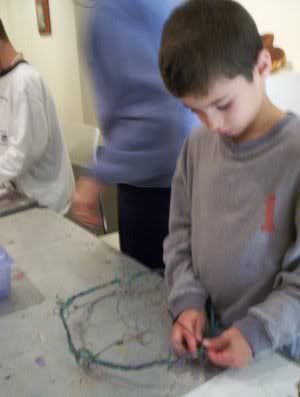 Now to find a place to hang all these wire creations.