Whoa That Must Be A Fire Hazard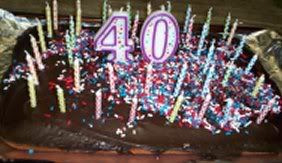 A photo of the birthday cake made solely by my children. The 4 and 5 yr olds were in charge of decorating it. They believe a cake can never have too much frosting or too many sprinkles, and there is no need to spread the frosting and sprinkles out evenly over the cake because they are going to eat "that" piece. They could care less about the rest of us, which is fine by me since I don't particularly like a crunchy layer of sprinkles on the top of my cake.
And contrary to the belief of my 8 yr old, we were able to light "that many candles".