32 Weeks
Even though I have done this before, I am still amazed at how a body can stretch and change shape to accommodate a growing baby.
And even though I know my belly will get much larger than this in the coming weeks, I can't fathom it right now.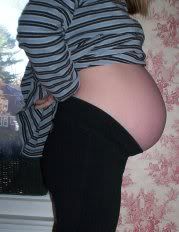 I had my prenatal appointment on Tuesday and all is going well. Gained 4 pounds in the past 3 weeks, bringing me to a grand total of 26 lbs so far. Typical for me is a 45 lb weight gain, but I am so hoping not to get there.
Though, I willingly admit, not hoping quite enough to prevent me from scarfing down brownies recently, as evidenced by the increasing size of the counter weight known as my big fat butt.
If I have this baby on the same timetable as my others I have about 6 weeks left. The only time I have made it to 38 weeks was with my last baby, and coincidentally only girl. I have nothing ready yet, but then again since my first baby I haven't done anything in advance.
I do need to go buy the baby book. Can't stop that family tradition now ;-)