On The Road To Recovery
"Mom, do they make Lyme-strong bracelets?"
And though I snickered at him and his dramatics, thanks to google I have found that they do in fact make a bracelet in support of Lyme Disease awareness. The only problem is that it stands for many other things:
Kidney disease, lymphoma, muscular dystrophy, organ donors, bone marrow donors, ecology, environment, ovarian cancer, missing children,childhood depression, glaucoma, tissue donation, and worker safety.
Putting aside the cynic in me who questions the reasons behind publicly displaying causes you support. How is anyone supposed to recognize what you are supporting? Doesn't it make the bracelets meaningless? Also, isn't the embossed phrase: HOPE, FAITH, LOVE, just a wee bit over dramatic for supporters of work safety?
So I made my own bracelet. Now there will be no doubts.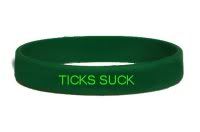 Get yours now. All proceeds will go to a worthy charity, my beer fund.