The Joy of Books
My daughter has discovered the joys of reading... one book, over and over and over again.
If I have to read "Curious George Counts To Ten" one more time I think my brain may ooze out of my ears.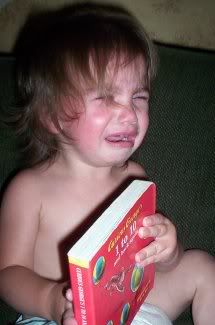 Here is a picture of her, clutching the beloved book, when I dared to get up and get the camera and take a break in the book reading marathon. I am half tempted to hide the book tonight while she is sleeping. She wanted to take the book to bed tonight with her, but being the mean mother that I am I didn't let her. All I could imagine was being woken up at some ungodly hour by being hit in the head with the book and demands to begin reading it.