A Peaceful Sunday
We got up this morning and decided to put aside all home projects for the day and just do something fun for all of us.
We went on a hike up a mountain near our home. At the top of the mountain is a tower that is visible from the center of town. The children have been bugging me to climb it for months. The trail and tower had been closed for quite awhile due to a fire set by vandals.
It was a *much* longer hike than I thought it would be, four hours long to be exact. Truth be told, the hike up kicked my butt. It was a bit unnerving to have my 3yr old running up the mountain and to be lagging behind sucking wind.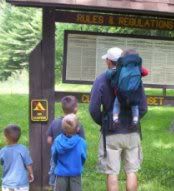 Nope, no firearms or alcoholic beverages in glass containers, we can proceed with our hike.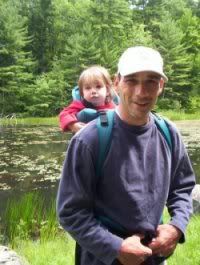 Rob carrying the baby. I know I have said it about my kids before, but it applies to my husband also. Thank goodness he is cute.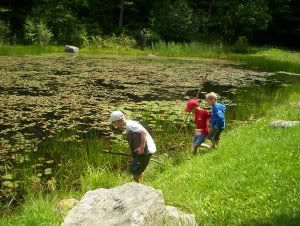 The boys searching the edge of the water for frogs and snails. Unfortunately, moments after this photo was taken my 8yr old found a nest of hornets. He ran off screaming and was bit once on the arm. On the way back down the mountain he managed to find the nest AGAIN, only this time he had the misfortune of being bitten 4 more times.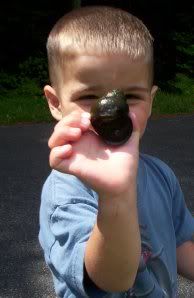 Showing off one of the snails. The children brought them home and we now have snails living in our little pond with the turtles and salamanders.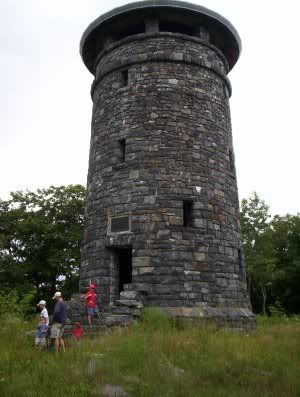 Finally we reached the top and saw the tower. The kids were thrilled, running up the spiral staircase and looking out of the top. It was a clear day so you could see for miles and they enjoyed finding various landmarks from around town. I collapsed on the outside steps and really wished I had a snack to eat as I was feeling pretty dizzy, most likely from my blood sugar level dropping. After drinking some water and resting for a few minutes I felt as good as new.
The highlight of reaching the top for my 3 yr old was finding this:

It was the weirdest centipede(?) I have ever seen. The boys said they wre going to go through their insect identification books and determine what it is called. My 8 yr old did spend several hours last night trying to identify which kind of bug bit him. It was cute because he kept picking out the ones with the largest photographs in the book, as if because it hurt so much it *had* to be the largest one.
Of course we did have a 3yr old with us, so it wasn't always a happy time. Here he is telling us how much he enjoys hiking.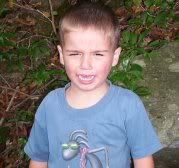 All this hiking really tires you out.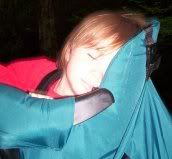 We went home and had ate grilled hamburgers and corn on the cob for a very late lunch. Then I baked brownies and we had brownie ice cream sundaes for dinner later on.
It was a nice day spent together as a family and I really wish that we could have more just like it.