It's A Week Long Event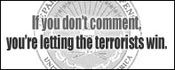 Yes, that time of year has come around again. Last year it was only a day long event, this year it is a week long extravaganza.
According to Sheryl, there is
a direct correlation between weight loss, and commenting on your favorite blogs, so leave a comment because it will make you skinny. Not that you're fat, because you're not!! So tell me how long you've been reading my blog, or your favorite book, or the first word that pops into your mind when you hear the word shish-kabob, and remember, if you don't leave a comment, you're letting the terrorists win.
So do you part for national security and lose weight while you are at it! Leave a comment, I promise I won't bite... unless you are into that sort of thing.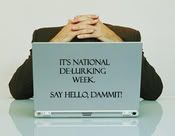 Updated to add: I fully intend to visit everyone who leaves a comment. I started but got sidetracked by so many interesting people! And now the kids are hungry, like I didn't just feed them yesterday. A sure sign that it is time to step away from the computer is if you find yourself saying, "I know the baby is squirting Windex on you, is it going to kill you?... Well, keep your mouth closed then."